09/03/2022
Seamless collaboration in international projects
HAUS takes care of an international project's red tape for the Tax Administration
The project in question is the DG REFORM Structural Reform Support Programme, in which the Finnish Tax Administration supports Cyprus in the implementation of ready-made taxation software for its tax authority. A similar program is already in use in Finland.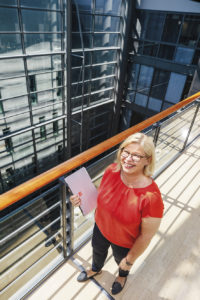 'Even though they are using a different supplier, they are grappling with issues that are very familiar to us. Finland is the only country in the EU where the tax authority extensively uses a ready-made taxation program for all taxes and customers' online services,' explains Karppinen.
HAUS acts as an intermediary in the project, because the Tax Administration could not sign an agreement on the Cyprus project directly with the EU. In addition to acting as the signing party, HAUS takes care of the required reporting and budget monitoring.
'HAUS has expertise in all the processes and other areas of project work required for DG REFORM. Our primary task is to share our expertise with Cyprus's tax authority. HAUS has relieved us of the need to deal with all the red tape related to the project,' explains Karppinen.
For us, you could call this a match made in heavens
Partnership alone does not suffice
According to Karppinen, the collaboration with HAUS in the Cyprus project brings added value in the areas of reporting and budget allocation. In addition, HAUS was able to assist in the preparation of application documents and the actual offer.
'HAUS was a tremendous help in the polishing of the offer because they have experience of similar offers and knew what they had to be like, what was the logical order to present things in, and which matters in the documents DG-REFORM would pay attention to.'
Thanks to HAUS's help with the technicalities, the Tax Administration could focus on the content of the offer.
HAUS was a tremendous help in the polishing of the offer because they have experience of similar offers.
'HAUS was able to give constructive feedback on the first version of our offer. On the basis of this feedback, we could then hone the offer,' says Karppinen.
Collaboration with HAUS will continue
The Tax Administration has previously carried out projects financed by Finland's Ministry for Foreign Affairs in Namibia and Tanzania. For these projects, the Tax Administration carried out reporting and budget monitoring itself. As a result, it had to perform significantly more administrative work than for the Cyprus project.
The Ministry for Foreign Affairs and HAUS are currently planning a taxation-themed multi-stakeholder development aid project that will include cooperation between universities and research facilities in addition to support provided by the Finnish Tax Administration. The new model will beimplemented in 2022.
'The plan is to include any follow-up project in Tanzania in the new aid package that HAUS is arranging for the Ministry of Foreign Affairs. This means that the collaboration with HAUS will continue with the development aid and Tanzania projects,' explains Karppinen.
You might also be interested in
16/05/2023
Strengthening the fight against corruption in Zambia through Twinning project – insights from Lusaka
Lue lisää
Kaikki ajankohtaiset